Dear Friends,
In October 15, you can participate in the presentation: "Activities of Innovation Management and TRIZ Institute" Ali B. Kutvan.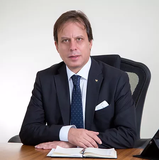 Prof. Dr. ALİ B. KUTVAN Management Scientist Lecturer, Researcher, Consultant, Writer, Strategist. He has Ph.D. degree in management science, İstanbul University and Marmara University, Berlizt Academy, (London / UK). Worked as a lecturer in Boğaziçi and Marmara Universities and also worked in Apple Computer in charge of Apple Global Education Project and Apple University Consorsium. Won International Rotary scholarship and he was the one who joint Group Study Exchange program in the UK / London.
Founder of Interactive Publishers Association as well as some innovative companies and enterprises. Took part in multinational companies and international NGO's as Non-Executive Adviser / Director in their Supervisory Board and Board of Directors.
He has created and managed more than hundred international projects as project leader and head consultant. Published several academic papers and research studies in national and international academic magazines by the side of ten academic books.
Owner of some achievements and awards such as "First Prize of Science and Technology" by Junior Chamber International, 1996, "Community Services", by Rotary International, "Finalist of Major Awards of Informatics", İş Bankası A.Ş, 1996 Faculty member of Nişantaşı University (Turkey) and Visiting Professor in The State Academy of Public Administration (Azerbaijan) and President of Kutvan Group.
President of Innovation Management and TRIZ Institute. Editorial Board Member of Journal of Business and Economics Review, Academic Star Publishing Company, NEW YORK / USA. Member of International Advisory Committee of IFERP / Institute for Engineering Research and Publication, INDIA. Member of Advisory Committee of Association of Ethics in Academy / Turkey.
His talk description:
After the first international TRIZ conference was organized in Baku, Innovation Management and TRIZ Institute was established in Baku in 2019.
The main activities of Innovation Management and TRIZ Institute operating in Azerbaijan and Turkey are as follows.
VISION and MISSION:
• To contribute directly to the Turkish and Azerbaijan Economy becoming an "Innovation-Based Economy" and gaining a sustainable competitive advantage by conducting research, preparing plans, programs, trainings, publications, and developing and designing administrative systems.
• To prepare plans, projects, systems design/development and programs that will assist Azerbaijani and Turkish companies, state institutions and regions in developing international innovation capabilities,
• Ensuring the commercialization of intellectual property (Intellectual Property) owned by institutions (university, academia, institute, etc.) that produce information and technology in Azerbaijan and Turkey, with innovation projects,
• Research, publication, conference, workshop etc. to create the innovation culture of Azerbaijan. organizing events,
• Being the "Think Tank" organization of Azerbaijan and Turkey in the field of innovation,
MAIN OBJECTIVES:
OBJECTIVES RELATED TO RESEARCH AND PLANNING
OBJECTIVES RELATED TO EDUCATION AND HUMAN RESOURCES DEVELOPMENT
OBJECTIVES RELATED TO R&D, PROJECT MANAGEMENT, CONSULTING
CULTURE AND COMMUNICATION DEVELOPMENT OBJECTIVES
OBJECTIVES RELATING TO INTERNATIONAL RELATIONS